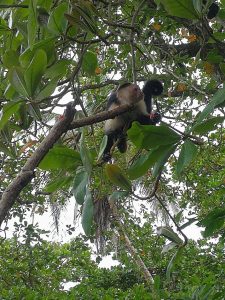 Keep your camera ready for amazing panoramic views as you board the Rainforest Aerial Tram for an unforgettable ride through the pristine rainforest canopy. Similar to a gondola system, the rainforest tram allows you to observe tropical wildlife such as monkeys, birds, colorful insects, the occasional shy sloth and other extraordinary rainforest inhabitants from the unhurried comfort of our open tram cars as you descend the mountain to the riverbank below.
Most animals live in the upper rainforest canopy where they feed on fruits and seeds that grow where the sunlight reaches– and from the aerial tram, you can see some of this wildlife.
The Rainforest Aerial Tram not only provides spectacular views but also is the means of transportation connecting the upper section of the park, where the Welcome Center and live exhibits are, down into the Victoria River Canyon below, where walking trails to the river, waterfall, and through the primary rainforest begin.
Enjoy a day of discovery in the 3,400-acre Veragua Rainforest Park; the crème de la crème of all rainforests nestled in the foothills of the Talamanca Mountains. Hike to a spectacular cascading waterfall, journey through the diverse walking trails to admire wild flora and fauna, and glide through the rainforest on aerial trams for splendid sights of reptile, sloths, pretty butterflies and exotic monkeys. Please Note: This tour involves approximately 1 1/4 hours walking over wooden.  Paved and gravel surfaces during the exhibit walk. The Giant will last approximately 25-minutes. The optional walk to Puma Waterfall includes 350 steps to reach the viewing platform.  Comfortable flat footwear, sunscreen, and insect repellent is recommended. The tram ride is about 12 minutes
Duration: 4 hours