Tree of Life Wildlife Rescue Center and Botanical Garden. Cahuita
Wildlife Rescue Center.
Botanical Garden
The main goal of the rescue center is to protect an rehabilitate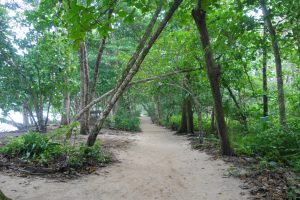 displaced wildlife of the Caribbean region.
They offer a safe haven to animals that need refuge because
of loss of habitat, accidents or hunting. Many of these animals
can be nursed back to a healthy condition, and can be released;
other have to stay in the Rescue Center.
This tour included:
Botanical Gardens with hundreds of different kinds of palm,
heliconias, bromelias and many others.
An experience with the plants and animals of the tropical rainforest.
Natural Walks under the canopy.
Many paved walkways.
Nursery with export plants
See rescue animals up close.
After a short tour to Cahuita National Park.
Highlights:
• Visit the Tree of Life Wildlife Rescue Center where you'll learn about the center's conservation work while viewing animals up-close.
• Learn about how cacao becomes chocolate at the rescue center's organically-grown cacao garden.
• Stroll the rescue center's 10-acre gardens of tropical and indigenous plants, heliconias, bromeliads, and calatheas.
• Support the Tree of Life Wildlife Rescue Center's important work with your visit.
• Hike Cahuita National Park's lovely rainforest trails, viewing flora and fauna, and maybe even a wild sloth.
   

Help Us to create a group, There is a minimum of 6 people to start with the basic tour,  Cost $90 p/p. 

   (for 10 0r more $75 p/p)    Duration: 5 to 6 Hrs